INVESTMENT SEED ROUND 1 PROGRESS
Location: Latvia
Sectors: Entertainment, Sports
Company name: BSR International
Registration number: LV40203306388
Investment type: Equity
Valuation (pre-money): 5 million Eur
Equity offered: 20% 
Investment round: Seed Round 1
Min investment: 200 Eur
Max investment: 500'000 Eur
Mini target: 350'000 Eur
Max target: 1 Million Eur
WHAT IS BSR INTERNATIONAL
SIA "BSR International" is a subsidiary which is being separated from Blue Shock Race manufacturing company functions and mostly focuses only on entertainment business of multi-activity go-kart center and related solutions. The company creates new go-kart halls "Cash Flow Objects", is involved in improving, development, optimisation and franchising of go-kart halls (providing the opportunity for everyone to become an owner of BSR multi-activity go-kart center).
The franchise model is one of the fastest ways to multiply the entertainment business concept developed and tested by Blue Shock Race.
WHAT IS A BSR GO-KART CENTER
Within the last 5 years Blue Shock Race has developed a concept of a center which basically determines what is a BSR center and what makes it special (opportunities provided by BSR solutions):
1. A new generation of BSR developed electric go-karts and charging systems, which allow to reduce the volume of investments in go-karts by nearly 40% and increase the active use of go-karts up to 98% (there is no need to wait for a go-kart to be charged for the next ride due to Quick Swap Battery System developed by BSR).
2. Modern and automated IT safety management system in the center that allows to make up to 20% savings in the area of servicing personnel and improve the safety in the track.
3. Developed management and organization system in the center that includes more than 10 various additional activities, increasing income per 1 square meter to the maximum.
4. The concept can be easily implemented at any location (shopping center, amusement park, or elsewhere) due to CO2 neutral solution and low noise level.
5. BSR brand and its world-class recognition in the entertainment and motor-sports industries, including professional races, promoting the recognition of the brand and attraction of new participants.
EFFICIENCY
"Investment" thanks to Quick Swap Battery system we reduce the starting investments in go-karts because the necessity for investments is reduced in double: only additional batteries need to be purchased to ensure continuous driving and charging.
"Running costs" Maintenance costs for electric go-karts are reduced because the engines and related items do not need to be repaired on a regular basis.
"Ventilation costs" additional ventilation system is not needed to dispose of CO2 emissions and to meet the requirements. Savings can reach up to 10K Eur per month.
"Energy Consumption" Electric go-karts use less energy per ride, but due to BSR technology BSR go-karts consume even less energy than competitors.
"Operation Efficiency" Electric go-karts require a long charging time, and it limits the number of rides. Due to BSR battery change system you do not have to wait for go-karts to charge but only change the battery which takes up to 30 seconds, and the kart is ready for the next rides.
"Tire consumption" The wear and tear of tires is affected by various factors, but mostly it depends on the surface of the track and weight of go-karts. BSR electric go-karts are one of the lightest karts in the market: up to 135kg (including the battery).
The table displays: 6 of the major expenditure items that BSR has optimised by its solutions, in order to achieve the maximum result in the hall efficiency. Efficiency means that some items have to be as low as possible, whereas some other – as high as possible. Read more in the description.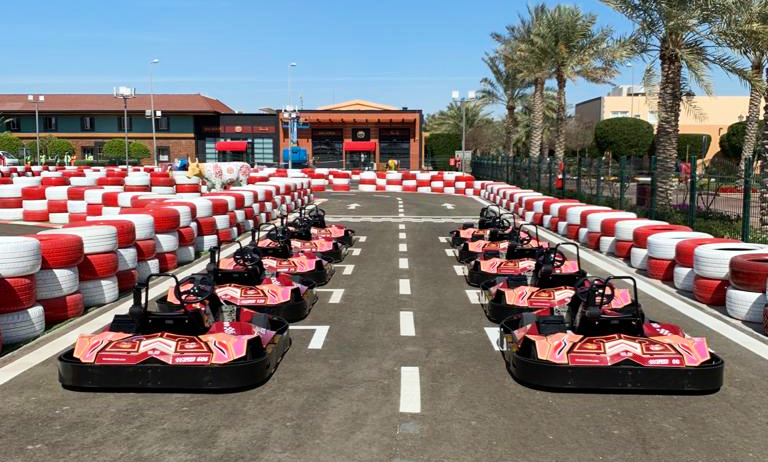 PRODUCTS
BSR Demo Centers, which are managed in a centralised manner; cash flow is generated and improvements and developments of the concept are made.
BSR Franchise Centers, which are created for the customers upon request according to BSR Franchise model, gaining profits from the designing, planning, and franchise payments (for the use of brand, training, and support, for know-how, the quality control and other services).
BUSINESS MODEL
BSR International performs B2B centralised management of go-kart centers and sale / maintenance of franchise.
The company mostly gains income and technological growth from BSR Demo Centers. The investment volume of one BSR Demo Centers ranges from 250-400K Euro and can generate from 300-800K Euro income per year, of which 20-40% consists of profit (depending on location, lease rules, and salary payments in the particular region).
The second group of incomes is formed by the sale of BSR Franchise Centers meaning creation of a new center for the customer upon request. BSR International gains income from various franchise payments (initial franchise fee, royalty fee, etc.).
The table displays: Amount of investment against the income and expenditure, and what is the planned gross profit. The graph shows in total 3 investment rounds and how it affects the company's growth and cash flow in aggregate.
MARKET
The market and focus of BSR International is divided as follows:
BSR Demo Halls which are created and managed in a centralised manner by BSR International will be opened within 800km radius from BSR International HQ so that these could be effectively supervised and supported.
Opening of BSR Franchise Centers is divided in 3 stages in the following regions:
1. Europe + UK + Scandinavia. The business of halls will be developed in this region for the first 2-3 years.
2. USA + Canada. This is the second-wave region after BSR franchise positions are established in Europe and the supervision system for further regions has been developed.
3. Asia. This region experiences a rapid growth; the development of the middle class takes place in it, and the demand for European-level entertainment increases.
COMPETITION
The are not many centralised united go-kart hall systems across the world that offer franchise. Mostly the players are based in the USA (e.g., K1 and Pole Position Raceway). The other players are mostly the manufacturers and sellers of the equipment for assembly of tracks and are less focused on development and improvement of their business model to transfer it for the operation by the third parties and gaining income from it. There are more than 20 such manufacturers of tracks and go-karts in the global market, and they are mostly providing competition, e.g., Protex Karting Barrier, Extreme Barriers, Sodi Kart, etc.
TRACTION & ACCOMPLISHMENTS
1. Establishment of the Worlds 1st National Electric Kart Championship the pre-opening stage of which was honoured by Jean Todt (President of the World Motor Sport Federation).
2. BSR go-karts have been acknowledged by the go-kart portal Gokartguide.com (USA) as TOP1 best go-karts in terms of price and performance, and in the same review, BSR leased entertainment kart receives a TOP4 spot for the same criteria.
3. Go-karts have been sold and projects and plans for halls and tracks have been prepared across the world for such countries as Qatar, Australia, New Zealand, USA, Belgium, Hungary, Switzerland, Germany, Netherlands, and other countries. More than 100 go-karts and related equipment have been sold in 2020.
4. In 2018, investments were attracted from the platform Fundwise.com (collecting a total of 212K Euro in the platform + privately); the investments were used to prepare certification of BSR products, registered trademarks, design samples, and other intellectual property was registered in Europe and Asia.
5. Motorsports UK acknowledged BSR electric racing kart as the most competitive electric racing kart in the market according to performance (on the basis of which the Automotive Federation of the Great Britain in 2019 began the British Electric Karting Series).
HOW WE USE FUNDS
All funds will be used for:
10% Campaign costs and legal preparation
5% Marketing and sales
5% Franchise developments and documentation
80% For new demo tracks opening
– Tallin Track with Sten Pentus (Estonia) – 25%
– Kuavola Track (Finland) – 20%
– Stockholm Track (Sweden) – 35%
The table displays: Planned income of investors against the investment by quarters. In the first 2 years, investors receive additional 30% of the gross profit for their investment share. After the first 2 years, investors gain income proportionally to their investment (size of shares). The first 2 years are counted from the moment, when the hall is opened (this refers to the first 3 halls within the framework of this investment campaign)
OBLIGATIONS TO INVESTORS
To their investors BSR International offer payment of dividends each year, and payment of +30% of the existing dividends from the dividend share of BSR for two years after opening of each hall as an additional interest incentive. This offer would let the early investors to regain their investments to the amount of 50% within the period of 2-3 years + increase the value of their assets each year by approximately 10-20%. In case of the average optimistic scenario, the total return on investment would reach approximately 5 times within 5-7 years (even 8 times in the optimistic scenario).
BSR International offers such a strategy only for the first-round investors with a purpose to promote development of demo halls which automatically promotes development of franchise. That way, BSR International gives away less shares at the starting position and gains a long-term profit; on the other hand, investors gain a better profit in the starting position and less in long-term, but in addition they form the value of obtained assets in case of exit.
This model would let BSR International to create the network of Demo Centers quickly, to develop the processes for the sale of franchise, generate cash flows and develop additional new centers.
To increase another breakthrough outside Europe, BSR International will have to organise an additional round of investments for approximately 2-3 million Euro, but in this round those will be long-term investors with a lower return intensity for investments (strategic investors or funds) which will in turn increase the value of the shares of existing investors.
INVESTMENT MODELS
In the public first round, BSR International offers to its investors the purchase of up to 20% of the company's shares, where 1% share value is EUR 50,000 with the total pre-investment valuation of the company being 5 million Euro.
The minimum investment for one investor is EUR 200, for which it is possible to obtain 0.004% shares. Maximum purchase for one investor is up to 10% of shares with the total value of up to EUR 500,000 + Bonus shares for the value of EUR 50,000 (1%).
For each 10,000 Euro of their investments the investor receives a bonus of 0.01% shares to the existing (EUR 500) shares, in total obtaining 0.21%.
For each 25,000 Euro of their investments the investor receives a bonus of 0.05% shares to the existing (EUR 2,500) shares, in total obtaining 0.55%.
For each 50,000 Euro of their investments the investor receives a bonus of 0.1% shares to the existing (EUR 5,000) shares, in total obtaining 1.1%.
For the first two years, all investors receive a 30% bonus from the gross profit in proportion to their investment volume plus EUR 30 gift card to attend any BSR Demo Hall.
The table displays: Value of investment recovery and acquired shares against the invested amount. Namely, "Investment" indicates, how much the particular investor has invested. "After 2Y" indicates, how much the investor will have received in disbursements of dividends after 2 years against its investment, and "After 5Y" indicates, how much the investor will have received after 5 years against its investment. Whereas "Asset val. 5Y" shows, what is the minimum planned value of shares of investors or the minimum valuation of shares of SIA "BSR Investment" against the investment in 2021 and 2025. The valuation does not include the increasing value for the future investment rounds.
RISKS AND MITIGATION
1. The global Force Majeure affecting the human flow and halting the whole global economy.
Solution: Depending on the problem by either adapting the track operations to the current situation as much as possible, or by moving the track with a small investment to another more active and safer region.
2. Pressure from one of the major players and increased competition in the market.
Solution: In this case, it is important to create our own eco-system, which is done by BSR. It allows to optimise the costs, achieve a greater efficiency in the halls; thus, it is possible to weather short-term pressure with minimum losses, if necessary.
3. Launch of new unique technological solutions for batteries in the market, or other major industrial breakthrough.
Solution: First of all, such a solution will apply to commercially most active industries, such as mobility, aviation, and only then it will be slowly adapted for the lesser industries. It means a period of several years to be able to adapt solutions for the new technologies and keep up with the upgrades.
4. Traumas and injuries in any of the halls that would affect the public image.
Solution: All halls meet CIK-FIA safety requirements and are covered by the third party liability, thus showing that safety and customer are placed first, and in case of any incident which happens very seldom, new safety regulations will be developed, and tracks will become even more safer. To acknowledge the situation, analyse it and find a solution of how to avoid it in future. Safety always comes first.
LONG-TERM GOAL
1. To create the network of electric karting centers in Europe, USA and Asia, which would include approximately 50 centers under BSR management and up to 100 sold franchises.
2. To reach the global status of the most efficient centers with the least consumed energy and the greatest revenue efficiency per one square metre.
3. BSR brand in the industry of electric go-karts as NO. 1 (both in sports and entertainment).
ROAD MAP
5 YEARS PERSPECTIVE
INVESTORS REGISTRATION FORM
Registration form for investors who want to make an investment
https://www.youtube.com/watch?v=yq0sZW5lsTU&ab_channel=BlueShockRace